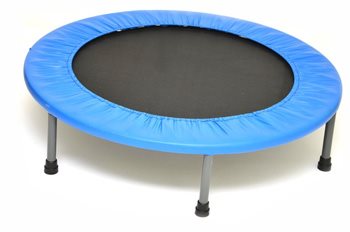 Trampoline accidents are classified as recreational – and at times, sports accidents – that involve one or more individual's use of a trampoline. A trampoline is one of the primary examples of sports equipment that can result in injury in the event of improper and unsafe usage. Statistics illustrate upwards of 85,000 trampoline accidents occurring per year in the United States, with upwards of 90 percent of those accidents resulting from home trampoline use.
What is a Trampoline?
Varying in size and shape, a trampoline is a piece of equipment that is used to extend the velocity and height jumps and leaps performed by an individual. A trampoline consists of durable, elastic material pulled taut across the surface area of the trampoline, which is then stabilized by springs. These springs allow for added elasticity. The surface of the trampoline is mounted atop a stand that can vary in height, depending on the size of the trampoline.
The Danger of Trampolines
Once an individual bounces on the surface of a trampoline, the exaggerated, elasticity maximizes the height, power, velocity, and speed to an individual's natural jumping ability. Those individuals who are unpracticed or unfamiliar with the mechanics and physics of trampolines run a risk of having a trampoline accicdent.
Preventing Trampoline Accidents
Although trampolines can provide a great deal of fun and enjoyment for those using them, improper trampoline use can have tragic results. Prior to using a trampoline, the owners are encouraged to ensure the integrity of its construct. The following are some precautionary steps that can be taken in order to avoid trampoline accidents:
Ensure that the purchase of a trampoline has been made from a reputable distributor and/or manufacturer that ensures that quality, integrity, and reliability of their products.
Ensure that the trampoline includes notification that it has been tested and inspected in accordance with Federal, legal, and commercial standards.
Ensure that the trampoline possesses a warranty that explains the legal process of its use; this includes liability and user responsibility.
Ensure that the enclosed instructions are read and understood by all individuals using the trampoline; pay close attention to any warnings, suggestions, and tips offered by the manufacturer.
Ensure that a medical professional has confirmed that the individuals using the trampoline are in sound physical condition to safely use a trampoline.
Ensure that there exists regulated and approved padding surrounding the perimeter of the trampoline in order to reduce the risk of trampoline accidents.
Ensure that the proper safety and protective gear is worn by all users.
Trampoline Accident Recourse
If confusion exists regarding the use and/or process of the trampoline in question, an individual is encouraged to consult with an attorney prior to its usage. An attorney specializing in liability, personal injury, accidents, and consumer laws will provide assistance in clarifying the liability of the manufacturer in the event of a trampoline accident.
However, an attorney should be contacted subsequent to any trampoline accidents in order to assess liability, personal injury, and to provide legal review of the case details.