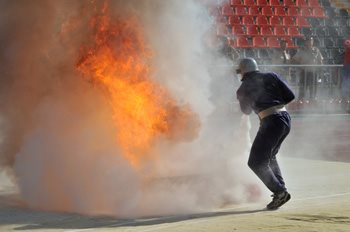 Sports accidents can range from accidents and injuries sustained by amateur participants to professional athletes. Due to the rigors inherent in the wide variety of athletic activities, sports accidents are not uncommon. Furthermore, as many sports involve physical contact, rigorous movement, and fast-paced activity, the potential for sports accidents is further elevated. Although participation in athletic activities can be an enjoyable and recreational activity, safety requirements and regulations preventing accidents are two components to which one should always adhere.

Types of Sports Accidents

Sports accidents can range in severity. The severity most often mirrors the rigor latent in the athletic activity. Sports involving physical contact and large groups of people render a higher volume of sports accidents. However, there exists no formula to predict injury. Even spectators uninvolved in the athletic activity have been injured due to sports accidents.
There exist three primary types of sports accidents. These do not address the nature of the injury, but rather the classification of the sports accidents:
Sports accidents involving spectators, who are not participants in the sporting event in question, have occurred in a variety of circumstances. Ranging from stray equipment ejected into the stands to flaws in the integrity of the building's structure (falling lights, collapsed bleachers, etc.).
Sports accidents involving spectators should be investigated further in the event that injuries have been sustained. Legal experts and attorneys specializing in personal injury can assist in the assessment of negligence and/or accident that has taken place.
Sports accidents involving faulty equipment or mechanical failures can result in serious injury to those involved. These types of sports accidents can involve negligence on the part of the manufacturer, as well as improper usage on the part of the user. Due to the rigors of many contact sports, regulated and mandatory protective wear must be utilized.
Individuals who have sustained injuries due sports accidents involving faulty manufacturing and flawed equipment are encouraged to consult with attorneys specializing in consumer affairs and/or personal injury.
Sports accidents involving physical injury resulting from chance or happenstance – albeit lack of negligence – can range from common sprains to paralysis. In the event that all equipment was in working order and safety protocol was satisfied, individuals are encouraged to explore their cases with a trained legal professional.
Sports Accident Claim: What do you need?
Witness accounts – if available
Police report – if available
The item/equipment in question
Video or audio documentation of the event
Medical assessment
Insurance information of both the victim, as well as all other parties involved
A written or verbal account of the event

Sports Accident Prevention
Sports accidents occur in a vast array of circumstances, and safety precautions should be taken very seriously, regardless of the athletic level of the participants, whether it be those playing for fun, or professional athletes. All equipment should be regulated, maintained, and checked on a consistent basis. Furthermore, all athletes should undergo physical and medical tests as scheduled by a trained medical professional.