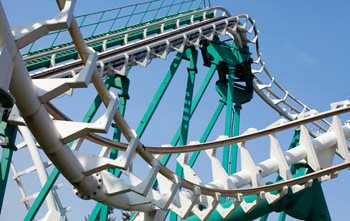 1. Roller Coaster Accident Lawsuits
The way in which a roller coaster accident can affect someone can vary according to the specific circumstances involved with the roller coaster accident and the degree to which any relevant legal concept with bearing is found to apply to the particular roller coaster accident involved. In general, it is legally advisable that any individual involved in a roller coaster accident, either directly or by virtue of relation to the victim of a roller coaster accident, quickly contact an available, experienced, and otherwise applicable legal representative.
2. Legal Theories on Roller Coaster Accident Litigation
The concept of "assumption of the risk" is generally considered to at least be potentially relevant to situations when roller coaster accidents are involved. In this regard, some degree of physical jolting and injury occurring can be assumed to be possible. Indeed, some even prefer physical jolting during a roller coaster ride as simply part of the normal operation of a roller coaster. The extent to which the concept of assumption of the risk is considered to limit the scope of permissible legal actions following a roller coast accident will generally vary in the United States from state to state.
The authority which otherwise would have been exercised by the U.S. Consumer Product Safety Commission over unsafe practices is limited under law, a consideration often referred to as the "roller coast loophole". In this regard, the 1981 Consumer Product Safety Act only extended oversight powers to Federal agencies in the instances of roller coasters which are moved from place to place, such as in a carnival, and prohibited centrally-directed government intervention from so-called "fixed site" roller coaster attractions.
As such, the ability to take action against roller coaster accidents is stripped from the Federal Government in instances of a roller coaster permanently set in one place. A roller coaster accident which occurs in such a case will come under the jurisdiction of either the municipal or state authority.
3. Applicable Causes for a Roller Coaster Accident
A roller coaster accident could be caused either by inherent problems with the ride involved or wrongful actions or omissions of action on the part of the people responsible for maintaining and administering the roller coast. Toward the former category, product liability measures can be charged against the company or individual originally responsible for creating the roller coaster involved in the accident. Otherwise, the operator of an amusement park or any of that operator's employees might also be charged with responsibility for causing a roller coaster accident, such as by the failure to honor agreed-upon or commonly understood safety standards.
Any failure to satisfactorily carry out safety regulations, even if not directly responsible for the roller coaster accident involved, could potentially open up an amusement park operator or equipment provider to the prospect of litigation. Moreover, roller coast accident victims can also suffer as a result of failure to honor obligations.