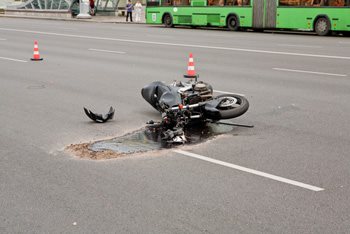 Danger Posed by Motorcycle Accidents
Motorcycle accidents are generally considered to pose an increased risk for mishaps occurring resulting in injuries and potential fatalities for the rider or any passengers involved in comparison with automotive accidents. As such, motorcycle accidents are a more serious problem in terms of the number of people killed per every unit of distance traveled than those which occur due to car accidents.
In the U.S., verifiable statistics on motorcycle accidents are offered through the particular source of the National Highway Traffic Safety Administration (NHTSA), which demonstrated that in 2006, 55.82 out of every 100,000 instances of motorcycle operation ended in fatal motorcycle accidents, as compared with the rate of 18.06 fatal accidents for every 100,000 instances of automobile operation.
Long-Term Trends for Motorcycle Accidents
In addition to the data collected by the NHTSA, information as to the frequency with which motorcycle accidents occur and cause death have been collected from the similarly empowered source of the Australian Transport Safety Bureau (ATS). The ATS has found a general increase, consistent across various ages for riders, in the number of fatal accidents which took place between 1998 and 2000. It is also found that fatal motorcycle accidents were almost 30 times more prevalent than other kinds of fatal accidents involving vehicular usage and operation.
For the United States, meanwhile, the NHTSA has released information reflecting an 8% increase in the number of fatal motorcycle accidents which have occurred in the 2003-2004 time range, according to a report compiled and released in 2005. This last figure indicated that the prevalence of motorcycle accidents had not experienced quite the same degree of increase as in comparison with automobile accidents, with the rate of increase being about 2% less significant. On the other hand, while fatal motorcycle accidents represent 5% of all of the accident-related deaths which occur on the U.S. highway system, motorcycles make up only 2% of all of the motor vehicles owned in the U.S.
Statistical Reports on Motorcycle Accidents
Two of the most comprehensive and generally applicable studies regarding motorcycle accidents, fatal and otherwise, which have been carried out are reflected in the Hurt Report and the MAIDS report, which are applicable to the territories of the U.S. and Europe, respectively. The Hurt Report study was conducted in 1981, with a regional emphasis on the Los Angeles region. The findings of the Hurt Report as to motorcycle accidents were accordingly used as a basis for further governmental legislation, regulation and enforcement.
The MAIDS report on motorcycle accidents, meanwhile, was carried out in the 1999-2000 time range and was geographically specific to five countries in Europe. The findings of the MAIDS report as to motorcycle accidents generally backed up the earlier conclusions of the Hurt Report in terms of causes and rider behavior.