Plane Crash Accidents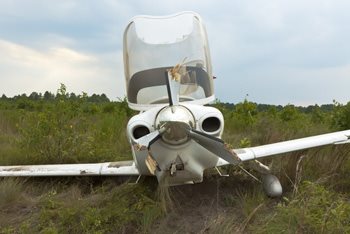 1. Plane Crashes
Plane crash accidents will generally come under the coverage of agencies of the central government of the country in which an accident occurs. In the U.S., two agencies have been empowered with authority over all plane crash episodes, barring any other concern or factor superseding their involvement. These two agencies are the Federal Aviation Administration (FAA) and National Transportation Safety Board (NTSB).
The definition of a plane crash, and the possible responses which can be brought to bear against it, can also be defined according to the U.N.-passed Convention on International Civil Aviation, specifically in Annex 13 of that document. These provisions do not use the "plane crash" language, but rather refer to "aviation accidents and incidents." As such, a plane crash would refer to the latter such kind of occurrence.
A plane crash which comes under this legal heading would be one which occurs between the time of boarding and disembarking, ends with a fatality or a serious injury, and ends either with the plane involved having been damaged to some degree or completely destroyed.
2. Areas of Law Affected by Plane Crashes
Plane crashes can be responded to according to a variety of different legal measures, depending on which may apply. The manufacturer of the aircraft involved in the plane crash, for one, might be held liable according to rules governing negligence in the creation of the plane as a "product," or under related rules governing product liability obligations. Personal injury and/or death might also be found to apply to the particular plane crash episode which has occurred.
Rather than the company responsible for initially designing, manufacturing, or equipping the aircraft, a plane crash might instead furnish the complainants with a cause for legal action against the airline, as well as its insurer, as another party which assumed a measure of responsibility for the level of performance of the aircraft.
The damages which might be claimed by complainants in plane crash lawsuits specifically filing over the occurrence of a wrongful death might do so in 1 of 4 possible ways. A plane crash lawsuit might be filed to recover damages based on loss, either of an "economic" or non-economic kind. Moreover, complainants can also file a plane crash-related legal action for punitive damages, seeking to punish the entity claimed or found to be responsible for the wrongful action or omission of action involved, or for survival damages.
The last category for plane crash damages refers to the ability of the wrongful death victim's next of kin to file suit for the recovery of damages on the basis of the physical and/or mental pain suffered by that relative following the occurrence of the accident and prior to that person's death.
3. Bringing Suit for a Plane Crash
In general, the field of "aviation litigation," as it is generally referred, will require the services of a professional legal representative at least with training in this category, and preferably with prior experience.
Comments
comments